FEATURED SYSTEM
O'Neill Sea Odyssey
Santa Cruz, CA 2.2 kW AC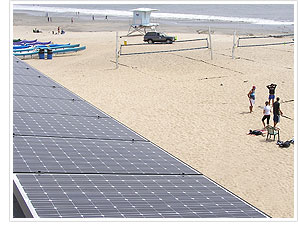 The O'Neill Sea Odyssey (OSO), a non-profit ocean education center, is now using solar electricity to power their office and other businesses located at the Santa Cruz marine harbor.
More than 500 students a year take part in the OSO educational programs. A living classroom was created on board a 65-foot catamaran sailing the Monterey Bay National Marine Sanctuary. Students from schools throughout Central California receive hands-on lessons about the marine habitat and the importance of the relationship between the living sea and the environment. The organization's founder, Jack O'Neill, is widely recognized as the inventor of the wetsuit which helped revolution the surfing and ocean sports industry.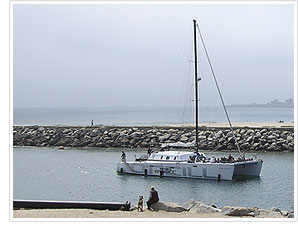 The goals of the solar project are to: 1) to reduce the carbon footprint and electric usage of O'Neill Sea Odyssey's education center and the office and water testing laboratory of the Surfrider Foundation's Santa Cruz Chapter; and 2) to save money for each organization.
"By reducing our carbon footprint and saving money, we will go green and save green," said OSO Executive Director Dan Haifley. "Climate change impacts the ocean which in turn plays a role in moderating earth's climate, so this will be a small contribution to keeping that balance healthy."
The solar electric system generates about 3,700 kilowatt hours per year. It is estimated to pay for itself in 15 years. The grid-tied system includes 14 Sanyo HIP 195BA19 solar panels, among the most efficient solar panels available, and a 3000 watt AC output inverter.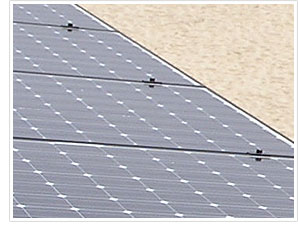 The solar electric system was designed by Solar Mike and installed by Ron Goad of Solar Construction. A $19,500 grant from the Ludwick Family Foundation of Glendora Los Angeles County paid for the majority of the solar electric system, along with cash rebate from California for about 25% of the system cost.
O'Neill Sea Odyssey has served over 50,000 youth. In 2004 it received an award from Governor Arnold Schwarzenegger and in 2005 from US Senator Barbara Boxer.