About solar mike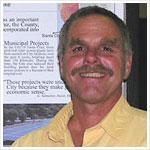 Mike Arenson, popularly known as Solar Mike, has 40 years experience in the solar energy industry. Working with a team of solar professionals, Solar Mike has designed hundreds of solar power systems. He provides services through his business to customers in the San Francisco Bay Area, and across the USA. He works on selected projects, such as custom off-grid systems, grid-tie PV system upgrades, and consulting on business development in the solar industry.
An Historic Team
Mike has worked with top solar builders and engineers at companies including Carmanah Technologies, EcoEnergies, Independent Energy Systems, Full Circle Solar, Pacific Solar Company, REC Solar, Solar Technologies, Solcon Solar Construction, SunsUp Solar and Zomeworks Corp.
A Lifetime Career in Solar
Mike began his career in solar energy in 1976. His first assignment was working as a writer and editor for the Santa Cruz Alternative Energy Coop. He moved to New Mexico in 1978 to apprentice with solar pioneer Steve Baer at Zomeworks Corporation, where he learned first-hand about passive solar design and construction, and solar water heating.

Productive Years in New Mexico
At the same time he worked for Zomeworks, Mike received his science teaching credentials from the University of New Mexico. He was also the alternative energy editor for the NASA Technology Application Center publications, where he read and keyworded more than 12,000 abstracts and articles about renewable energy, covering such topics as solar, wind, biomass, fuel cells and more.
West Coast Home
Solar Mike returned to Santa Cruz in the early 1980's and started his solar consulting business. While an instructor in the solar energy program at Cabrillo College, Mike taught hundreds of students, and eventually thousands of people in the community. In the 1990's he founded the Rising Sun Energy Center to provide energy education for young people and the general public. He continues to see his former students who have made solar and energy efficiency their professions. Many work at PG&E, or have their own energy businesses.
Solar Renaissance
For two decades solar energy in America was largely ignored. But this changed in 1997, when new California net-metering laws allowed homeowners to install their own solar electric systems and connect to the utility's grid. In 1998, Mike joined Pacific Solar Company in Redwood City, and began the next phase of his career, selling solar electric systems to homeowners and businesses. Big financial incentives, along with rising electricity prices and concerns about global warming have created billions of dollars of solar business in California, in which Mike has played a small but important role.
Ecological Lifestyle
Mike lives with his family in a solar powered house. Their solar electric system generates almost all of their electricity. Their electric bill is often less than $20 for the year! Their domestic hot water is heated by a solar water heater and has been working for more than 20 years. Mike maintains a home office, which reduces his commute miles to nil. He rides a bicycle for most local errands.
Let Solar Mike put a solar power system on YOUR home!
Contact us for a free estimate.